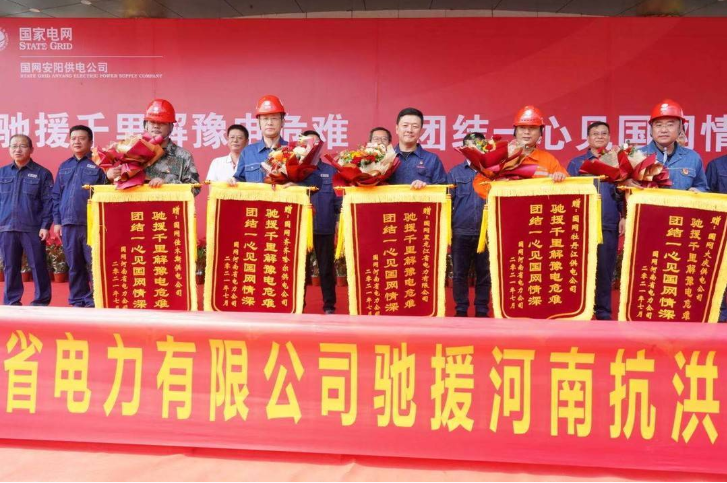 On July 26th, the flag-giving ceremony of "Aid for Thousands of Miles to Solve the Dilemma of Henan Electric Power, Unite and See the State Grid's Love" was held in Anyang, Henan.
From July 19 to 23, the precipitation in Anyang City, Henan Province reached 600 millimeters. Affected by heavy rainfall, floods occurred in the Anyang area, severe damage to power equipment in many places caused power outages, which greatly affected the production and life of residents.
In the face of this flood, State Grid Heilongjiang Electric Power responded quickly and coordinated in accordance with the unified deployment of State Grid Corporation. On the 23rd, State Grid Heilongjiang Electric Power rushed to assist Henan Power Supply Repair Team Command Deputy Commander Xu Feng, leading 268 people and 22 units. Vehicles rushed to Anyang City with equipment such as test equipment, lights, and emergency repair materials. After 22 hours of trekking 1,744 kilometers, they arrived in Anyang City at 7 o'clock on the 24th.
"As soon as the rain stopped, the State Grid Heilongjiang Electric Power rushed to assist the Henan Power Supply Emergency Repair Team. After arriving, the team immediately engaged in emergency rescue work without stopping for a moment. For us, this is not only sending charcoal in the snow, but the'Heilongjiang Four' on their bodies. "Great spirit" is a great encouragement to our local emergency repair team." State Grid Henan Electric Power Company Anyang Power Supply Company Party Secretary Feng CPPCC said excitedly.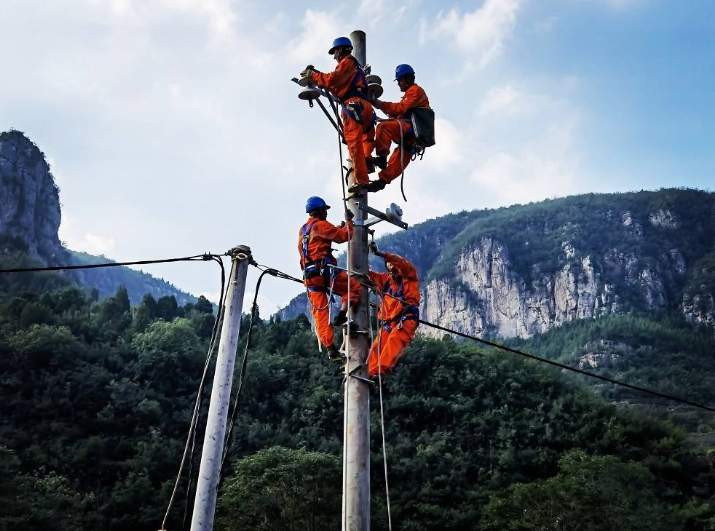 After arriving, the power supply emergency repair team immediately docked with the local power supply company and conducted on-site surveys, and then organized rescue personnel to Anyang County, the west of Anyang City, and Linzhou City to carry out emergency repair and power supply guarantee work. At 21:20 on the 24th, Qiqihar Power Supply Company personnel fought continuously for 7 and a half hours, lighting up the "first light" of State Grid Heilongjiang Electric Power rushing to assist Henan rescue team in Anyang. At 4:50 on the 25th, a rescue team composed of personnel from Jiamusi Power Supply Company worked endlessly for 15 hours to complete the emergency repair work in Xibaishujian Village and Lunzhang Town Xulu Village, Anyang County. At 16:00 on the 25th, the personnel of Daqing Power Supply Company completed the emergency repair task in Chadian Town and met with the personnel of Mudanjiang Power Supply Company who had already been fighting in Gouyaotouqiao Village, Wulong Town, Linzhou City. The two teams worked together and "chewed" at 22:00. "The hardest bone" in Anyang area-Gouyaotouqiao Village.
As of the 26th, the State Grid Heilongjiang Electric Power rushed to assist the Henan emergency rescue team to successfully complete the emergency repair task in Anyang City. A total of 78 bases of electric poles were assembled and corrected, 12 lines totaling 10.3 kilometers were repaired, and the electricity consumption of 6,049 households was restored.
The news is reprinted to 极光新闻
Author: Liu Guoliang