Description
Aluminium contact teeth piercing connector CRS-7
Aluminium contact teeth piercing connector CRS-7 are suitable for majority types of LV ABC conductors as well as connections to service and lighting cable cores. When tightening the bolts, the teeth of the contact plates penetrate the insulation and establish a perfect contact. The bolts are tightened until the heads shear off. Tightening torque guaranteed(fuse nut). Stripping of insulation is avoided.
Service condition: <1kV, 50/60Hz, -10°C to 55°C
Standard: IEC 61284, EN 50483, IRAM2435, NFC33 020.
●Body is moulded from tough, resilient, glass filled nylon for long service life exposed to weather (particularly sunlight) and is rounded to prevent damage to adjacent conductors.
●Aluminium contact teeth cut through insulation without splitting and ensure proper penetration into the conductor and Electrical continuity without sacrificing the mechanical strength of the conductor
●Aluminium teeth ensure compatibility with aluminium conductor and will not deteriorate due to stress corrosion
●Rubber seals and grease prevent moisture entering the cable for long term performance
●End caps provided are used to seal the end of the branch core
●Suitable for Aluminium conductor
INSULATION PIERCING CONNECTOR for Main to 240 
Remarks: ISO mean insulated conductor, BARE mean bare conductor.
Models

CRS-7

CRS-7-1

Main Line(mm²)

 120-240

150-240

Service Line (mm

²

)

25-120

10-25

Bolt No.

1

1

Norminal Current(A)

211

102

Remarks

ISO to ISO

ISO to ISO
Related Product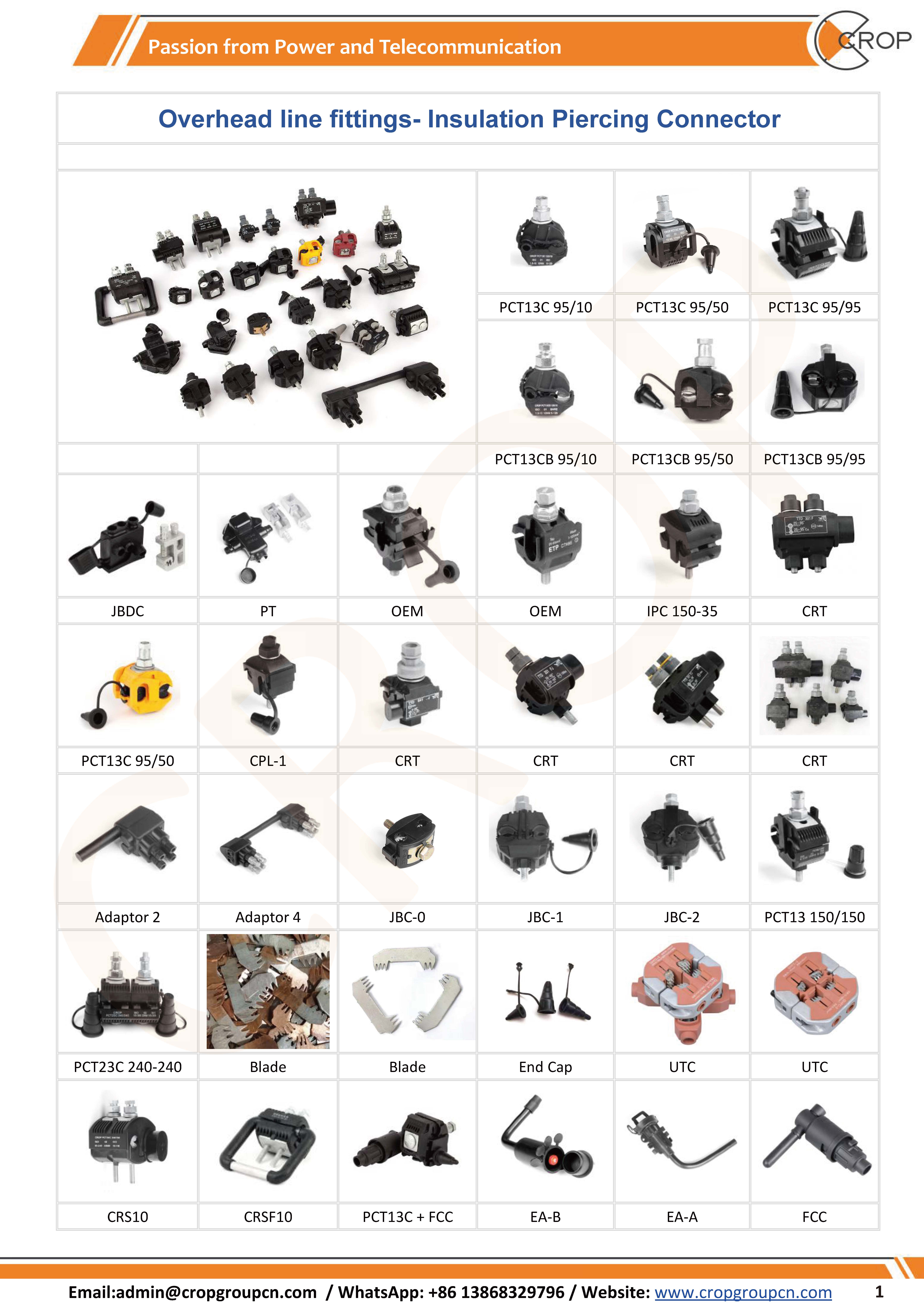 Features
• Tested for watertightness at a voltage of 6 kV for 30 min in a water bath
• Potential free tightening bolts allow safe installations on life lines
• Bimetallic, suitable for aluminium and copper conductors
• Long neck 13 mm shear head nut ensuring reliable installations
• Components not isolated, end cap attached to body
• Insulation material made of weather and UV resistant glass fibre reinforced polymer
Installing