Description
ABC cable waterproof insulation piercing clamp connector (IPC)
Insulation piercing connectors are suitable for majority types of LV ABC conductors as well as connections to service and lighting cable cores. When tightening the bolts, the teeth of the contact plates penetrate the insulation and establish a perfect contact. The bolts are tightened until the heads shear off. Tightening torque guaranteed(fuse nut). Stripping of insulation is avoided.
Insulating piercing connectors allow splice insulated / insulated lines or insulated / bare line. The coverage of the main and derived sections allows subscriber connections and line extensions. Tapping can be performed indifferently on both sides of the connector.
Service condition: <1kV, 50/60Hz, -10°C to 55°C
Standard: IEC 61284, EN 50483, IRAM2435, NFC33 020.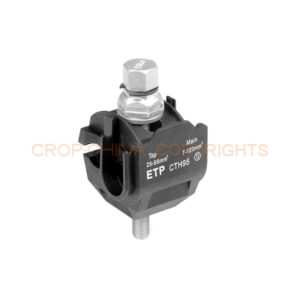 Insulation Piercing Connector
Product size: CTH95
OEM logo: ETP
Cable range: 25-95mm2, to 7-120mm2
Related Product