Description
Dead End Anchor Clamp
Description of Aluminum anchor clamp
The aluminum anchor clamp for ab cable service line.The PA 1000,PA 1500,PA 2000 anchor clamp with hook is designed to anchor insulated service lines with 2 or 4 conductors to the pole or wall.The aluminum tension clamp is composed of a body, wedges and removable and adjustable bail or pad.Tension clamp with hook are design to supporting the neutral messenger,the wedge can be self-adjusting. Pilot wires or street lighting conductor are led alongside the clamp. The self opening is featured by an integrate spring facilities for easily insert the conductor into the clamp. Standard: NFC 33-042.
Material of anchor clamp with hook
The clamp body, the main mechanical component is manufactured in heavy duty weatherproof synthetic material.
The wedge, made from synthetic material exerts necessary mechanical pressure in retaining the cable in the body of the clamp.
The pull hook is made from anti corrosion rod.
For anchoring isolated coaxial and unipolar cables.

| | | | |
| --- | --- | --- | --- |
| Models | PA-1000-* | PA-1500-* | PA-2000-* |
| Cable Range (mm²) | 25-35 | 50-70 | 70-95 |
| Cable Diameter(mm) | 8~11 | 11~14 | 14~18 |
| Core No. | 1 | 1 | 1 |
| MBL (daN) | 1000 | 1500 | 2000 |
(*)Add "FA" mean steel rope, add "SS" mean stainless steel rope
Related Product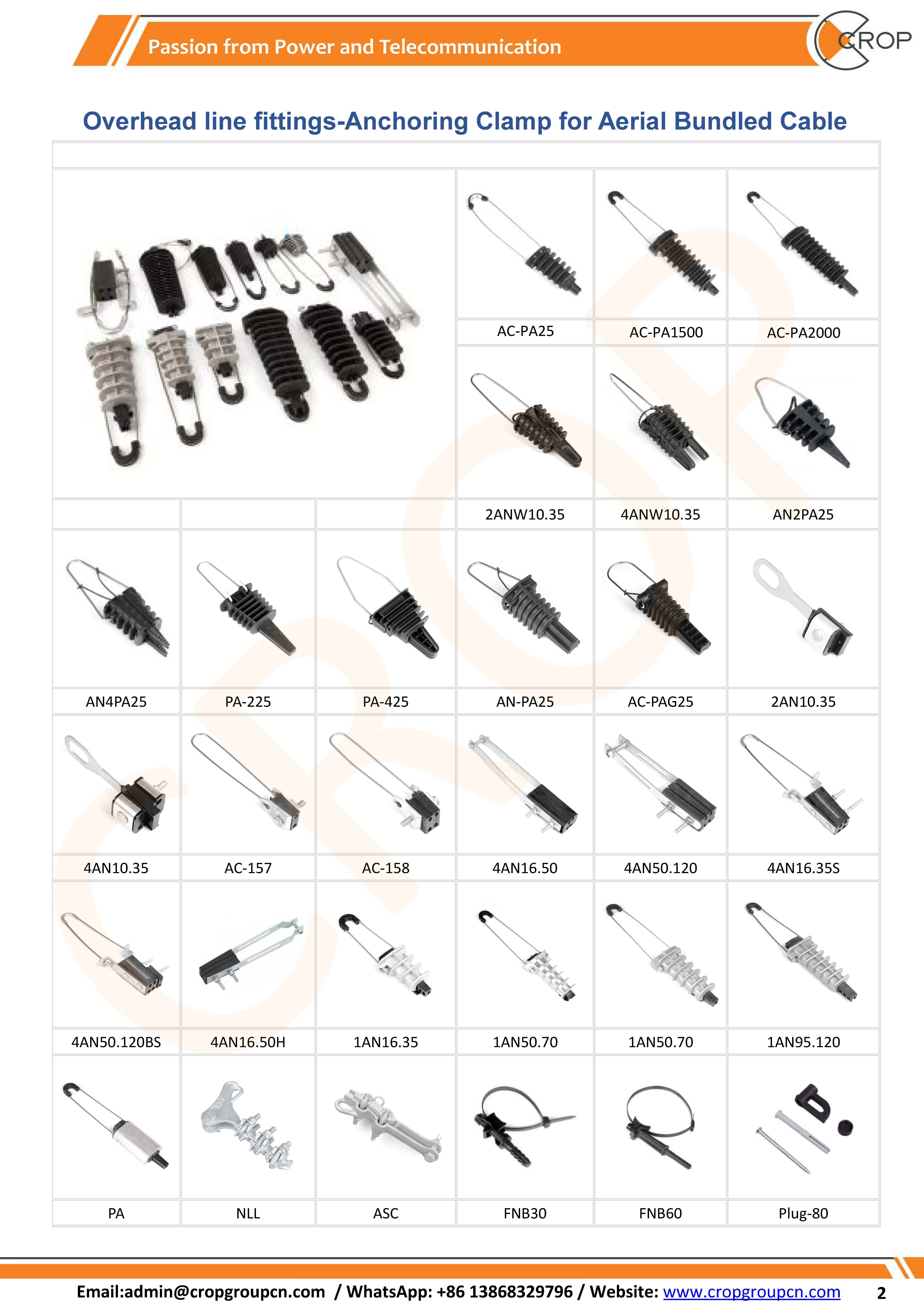 Feature of tension clamp with hook
1.Simple and fast installation requiring no tools.
2.Suits to all field configurations.
3.Possible to mount on pole line hardware with open or closed eye.
4.Mechanical traction resistant.
5.Supports industrial duty tension.
6.Corrosion resistant.
7.Weatherproof.
Cable diameter
PA 1000 : 8-11mm,PA 1500 : 11-14mm,PA 2000 : 14-18mm
For the correct installing anchor clamp PA series, the following steps are recommended:
Loosen the mooring hook from the anchor clamp.
Place the hook en the place to be mooring point or support, fixing it inside the body of the clamp
Remove the wedge from its base and then place the cable within the clamp.
Replace the wedge to its corresponding position and proceed to tense the cable taut.