Description
Heliformed Dead End Clamp
NL
1.Preformed dead end clamp is intended for a single (one-time) use and for the specified application.
2.Heliformed tension clamp intended for use by trained craftspeople only. dead end clamp should not be used by anyone who is not familiar with and trained in the use of it.
3.When working in the area of energized lines with this product,extra care should be taken to prevent accidental electrical contact.
4.For proper performance and personal safety be sure to select the proper size with preformed Armor Rods and clamps according the conductors size before application.
5.Tension clamp are precision devices.To insure proper performance,they should be stored in cartons under cover and handled carefully.
6.The dead end clamp are simple installation,except the need the screwdriver to seperated the conductor ends ,usually needn't a ny other tools,just install by hand.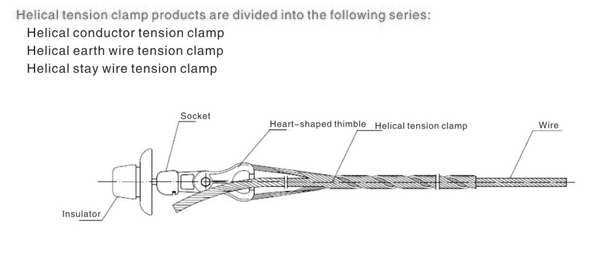 Preformed dead end clamp for ACSR
Model
Applicable type of guide wire(GB1179-83)
Reference length(mm)
Color code
Optional matching fittings
Applicablediameter of guide wire(mm)
ACSR(LGJ/LGJF)
NL-16/3
5.55
16/3
444
Brown
TC-05-B
NL-25/4
6.96
25/4
546
Yellow
NL-35/6
8.16
35/6
622
Red
NL-50/8
9.6
50/8
685
Yellow
NL-70/10
11.4
70/10
736
Blue
NL-95/15
13.61
95/15
876
Red
TC-07-B
NL-70/40
13.6
70/40
876
NL-95/20
13.87
95/20
876
NL-120/7
14.5
120/7
876
NL-120/20
15.07
120/20
889
Black
TC-10-B
NL-120/25
15.74
120/25
889
NL-150/8
16
150/8
889
NL-150/20
16.67
150/20
1016
Green
NL-150/25
17.1
150/25
1016
NL-150/35
17.5
150/35
1016
NL-185/10
18
185/10
1016
NL-185/25
18.9
185/25
1155
Orange
NL-185/30
18.88
185/30
1155
NL-210/10
19
210/10
1155
NL-185/45
19.96
185/45
1155
NL-210/25
19.98
210/25
1155
NL-210/35
20.68
210/35
1155
NL-240/30
21.6
240/30
1270
Blue
TC-10-B
NL-240/40
21.66
240/40
1270
NL-240/55
22.4
240/55
1700
Purple
TC-12-B
NL-300/15
23.01
300/15
1442
Blue
TC-10-B
NL-300/20
23.43
300/20
1442
NL-300/25
23.76
300/25
1620
Brown
TC-10-B
NL-300/40
23.94
300/40
1620
NL-300/50
24.26
300/50
1770
Brown
TC-12-B
NL-400/20
26.91
400/20
1860
Red
TC-12-B
NL-400/25
26.64
400/25
1860
NL-400/35
26.82
400/35
1860
Heliformed tension clamp for AAAC
Model
Applicable diameter of guide wire(mm)
Applicable type of guide wire(GB1179-83)AAC(LJ)
Reference length (mm)
Color code
Optional matching fittings
min.
max.
NL-16/LJ
4.62
5.16
16
406
Blue
TC-070B
NL-25/LJ
5.8
6.53
25
444
Orange
NL-35/LJ
7.35
8.26
35
622
Red
NL-50/LJ
8.27
9.25
50
685
Green
NL-70/LJ
10.4
11.68
70
736
Blue
NL-95/LJ
11.69
13.11
95
800
Orange
NL-120/LJ
13.12
14.66
120
876
Red
NL-150/LJ
14.67
16.59
150
889
Black
NL-185/LJ
16.6
18.77
185
1016
Green
NL-210/LJ
16.6
18.77
210
1016
Green
NL-240/LJ
18.78
21.26
240
1155
Orange
NL-300/LJ
21.27
24.05
300
1270
Blue
NL-400/LJ
24.06
27.2
400
1422
Brown
NL-500/LJ
27.21
30.78
500
1651
Orange
TC-10-B
1KV insulated helical conductor tension clamp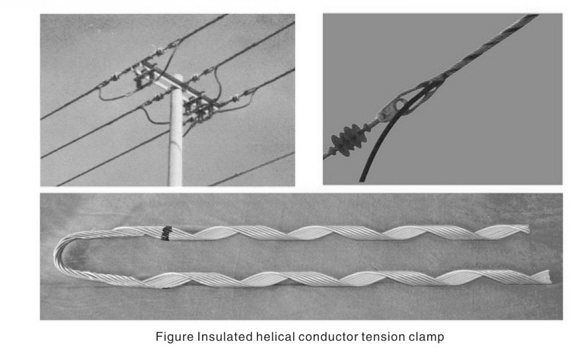 Model
Applicable diameter of guide wire(mm)
Applicable wiremodel below 1KV GB12527-90
Applicable wiremodel below 10KV GB14049-93
thinner insulation
Reference length (mm)
Color code
Optional matching fittings
min.
max.
NL-10/JY-1KV
5.82
6.53
10
460
Orange
TC-05-B
NL-16/JY-1KV
6.55
7.34
16
530
Yellow
NL-25/JY-1KV
8.28
9.25
25
690
Green
NL-35/JY-1KV
9.26
10.39
35
690
Yellow
NL-50/JY-1KV
10.4
11.68
50
740
Blue
NL-70/JY-1KV
11.6
13.11
70
25
790
Orange
35
NL-95/JY-1KV
13.12
14.66
50
860
Purple
NL-120/JY-1KV
14.67
16.59
95
70
889
Blue
TC-07-B
120
NL-150/JY-1KV
16.6
18.77
150
95
980
Red
NL-185/JY-1KV
18.78
21.26
185
120
1016
Brown
TC-10-B
150
NL-240/JY-1KV
21.27
24.05
240
185
1016
Green
NL-300JYQ-10KV
24.06
27.2
240
1016
Black
300
10KV insulated helical conductor tension clamp
Model
Applicable diameter of guide wire(mm)
Applicable wiremodel below 10KV GB14049-93
ordinary insulation
Reference length(mm)
Color code
Optional matching fittings
min.
max.
NL-10/JY-10KV
10.40
11.68
10
740
Blue
TC-05-B
NL-16/JY-10KV
11.69
13.11
16
790
Orange
NL-25/JY-10KV
13.12
14.66
25
860
Purple
NL-35/JY-10KV
14.67
16.59
35
889
Blue
TC-07-B
NL-50/JY-10KV
14.67
16.59
50
889
Blue
NL-70/JY-10KV
16.60
18.77
70
980
Red
NL-95/JY-10KV
18.78
21.26
95
1016
Brown
NL-120/JY-10KV
18.78
21.26
120
1016
Brown
NL-150/JY-10KV
21.27
24.05
150
1016
Green
TCB-10-B
NL-185/JY-10KV
24.06
27.20
185
1016
Black
NL-240/JY-10KV
24.06
27.20
240
1016
Black
NL-300/JY-10KV
27.21
30.78
300
1016
Purple