Description
Insulation Piercing Tap Connector
Insulation piercing tap connector are required for tap-offs of bundled conductors and for connection of service conductors to bundled conductors.These connectors shall be of insulation piercing type both on the main and tap conductors.It is used to make connection between protected low voltage overhead lines (with neutral), transformers downspout or service drop cable.It is suitable for different combinations of aluminum and copper,main and branch conductor.
Insulation Piercing Connector Size

CROP Model
Equal Model
Conductor range
Packing
Main
(Al/Cu,Cu/Cu,Al/Al)
Tap
(Al/Cu,Cu/Cu,Al/Al)
Quantity/Carton
Gross Weight.KG.
Carton dimension CM
mm2
AWG
mm2
AWG
PCT13C 95/10
DCNL-1
10-95
7-4/0
1.5-10
16-7
400
24.2
46.5X37X20
PCT13C 95/50
DCNL-2
16-95
5-4/0
4-50
12-1/0
150
23.7
46.5X37X20
PCT13C 95/95
DCNL-3
16-95
5-4/0
16-95
5-4/0
100
19
46.5X37X20
PCT13C 150/50
DCNL-4
50-150
1/0-300
4-50
12-1/0
150
24.7
46.5X37X20
PCT13C 150/150
DCNL-5
16-150
5-300
16-150
5-300
100
20.8
60X31X21
This specification is for a universal insulation piercing connector, suitable for different combinations of aluminium and copper, main and branch conductors.The thickness of insulation for both main and branch conductors shall not be greater than 2mm.
Piercing Tap Connector Structure

① Body  ② Contact plate (teeth)  ③Waterproof Sealing cover  ④ Cable end cap  ⑤ Grease ⑥ Shear head nut ⑦ Bolt ⑧ Washer
Upper and lower Body: made of a mechanically strong, weather resistant insulating material having also UV resistant characteristics.
Contact plate (teeth): Copper tinned,copper alloy tinned,aluminum
Waterproof Sealing cover: Flexible PVC
Cable end cap: Flexible PVC
Grease: Silica gel
Shear head nut: Zinc Alloy
Bolt: Hot dip galvanized steel, grade 8.8 or Dacromet
Washer: Hot dip galvanized steel or Dacromet
Related Product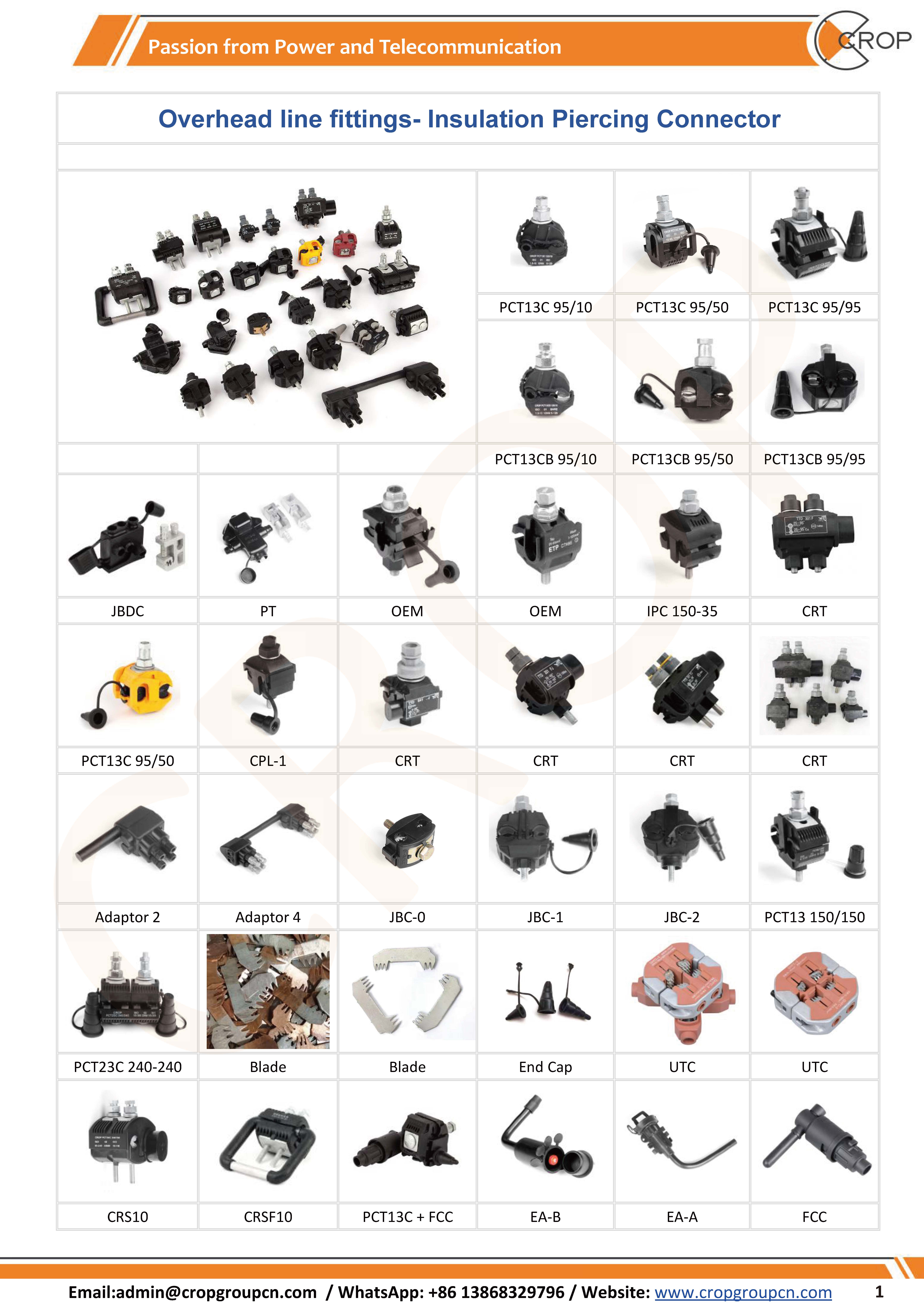 If you want to know the Insulation Piercing Connector price,please feel free contact us.
Email: admin@cropgroupcn.com;tara@cropgroupcn.com
Mob: 0086 177 5778 8662 / Whatsapp: 0086 17757788662 / Wechat: WXL17757788662