Description
Plastic Anchor Clamp
An plastic anchor clamp, also known as a cable clamp or tension clamp.It is a device used to secure or anchor cables, wires, or guy wires to a structure or anchor point.
The anchoring clamp are commonly used in various applications such as construction, electrical installations, telecommunications, and utility pole installations.
An plastic anchor clamp typically consists of plastic body with one or more openings or grooves to accommodate the cables or wires. The clamp is designed to hold the cables securely in place while providing resistance to movement or tension.
Material
Body and wedge: made of weatherproof and heavy duty fiberglass reinforced plastic .
Rope: stainless steel or hot dip galvanized steel,Length: 500mm (250mm each side),include plastic holder,aluminum end terminals
| | | | |
| --- | --- | --- | --- |
| Models | PA25-* | PA1500-* | PA2000-* |
| Cable range (mm2) | 16-25 | 25-50 | 54.6-70 |
| Cable diameter(mm) | 8 ~ 10 | 12 ~ 14 | 14-16 |
| Core No. | 1 | 1 | 1 |
| MBL(daN) | 600 (800) | 1000(1500) | 1500(2000) |
(*)Add "FA" mean steel rope, add "SS" mean stainless steel rope
To use an anchor clamp, the cable or wire is inserted into the clamp's opening or groove, and then the clamp is tightened or secured using bolts, screws, or other fastening mechanisms. This effectively anchors the cable or wire to the desired location, preventing it from sagging, shifting, or becoming loose.
Plastic anchor clamp come in various sizes and designs to accommodate different cable diameters and application requirements. It's important to select the appropriate clamp size and type based on the specific needs and the diameter of the cables or wires being secured.
If you have a more specific application or context in mind for the anchoring clamp, feel free to provide further details, and I can offer more tailored information.
Related Product of plastic anchor clamp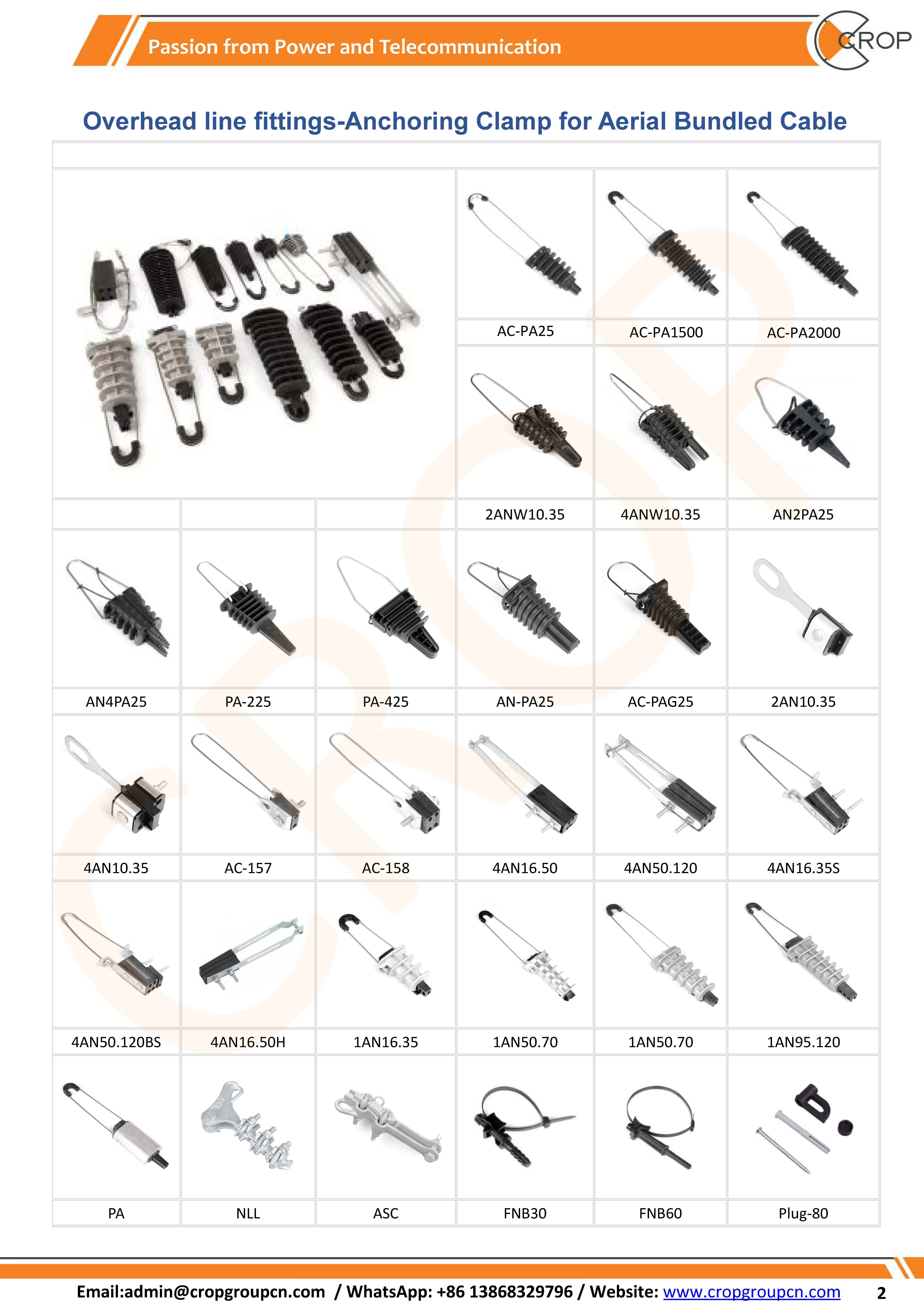 If you want to know the plastic anchor clamp price,please feel free contact us.
Email: admin@cropgroupcn.com;tara@cropgroupcn.com
Mob: 0086 177 5778 8662 / Whatsapp: 0086 17757788662 / Wechat: WXL17757788662