Description
Application of double preformed suspension clamp
1.Double preformed suspension clamp for the reduction of static stresses at conductor suspension points and to provide greater protection to conductors against the dynamic stresses of Aeolian vibration.
2.To give conductors protection against impulse and flash-over.
3.To protect conductors against abrasion,bending and compression stresses.The protection offered by heliformed suspension clamp fittings is superior to armor-clamp combinations.
4.To install line angles up to and including 30 and through use of double units,up to 60 .
5.For proper performance and personal safety be sure to select the proper size with preformed Armor Rods and clamps according the conductors size before application.
6.Preformed suspension clamp are precision devices.To insure proper performance,they should be stored in cartons under cover and handled carefully.
Safety Considerations of preformed suspension clamp
1.Preformed suspension clamp is intended for a single(one-time)use and for the specified application.
2.Support suspension clamp is intended for use by trained craftspeople only.This product sh ould not be used by anyone who is not familiar with and trained in the use of it.
3.When working in the area of energized lines with this product,extra care should be taken to prevent accidental electrical contact.
Support suspension clamp is used for hanging wire and groun wire on pole.It can not only effectively protect the wire but also greatly reduce corona discharge due to its smooth outer contour.Thus,it is particularly suitable for extra-high voltage(220KV and above)lines.Dual support gelical suspension clamp can also be used for long-distance transmission lines across the river and towers with great corner(30-60°)and is an ideal comnination of helical armor rod and suspension clamp.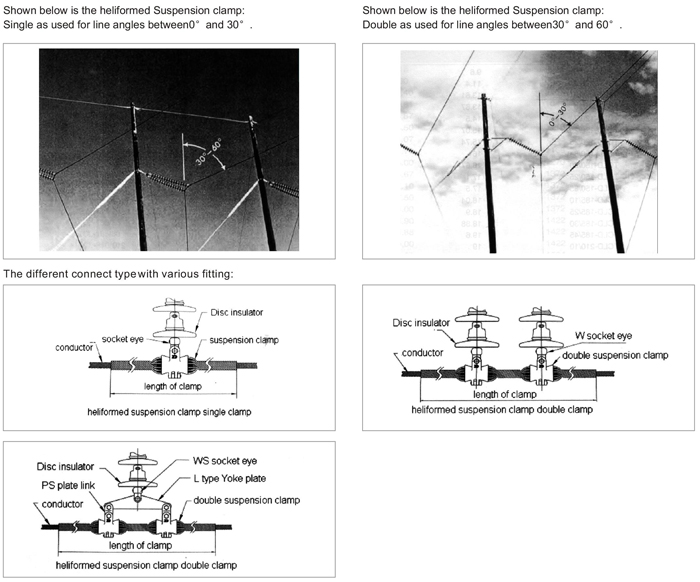 Model
Applicable diameter of guide wire
(mm)
Applicable type of guide wire
(GB1179-83)
Reference length of wire clamp(mm)
Color code
Vertical breaking strength(KN)
Optional mating
Suspension loop
Min.
Max.
ACSR(LGJ/LGJF)
AAAC(LJ)
CL-35/6S
8.03
8.31
35/6
970
Red
132
YB-15-B
(two)
CL-50/8S
9.53
9.88
50/8
970
Purple
CL-70/10S
11.05
11.45
70/10
1220
Blue
CL-95S
12.24
12.69
95
1350
Red
132
CL-95/15S
13.49
13.78
95/15
1350
Yellow
CL-95/20S
13.79
14.10
95/20
1470
Black
CL-120/7S
14.11
14.56
120/7
172
1470
White
CL-120/20S
14.57
15.10
120/20
1470
Brown
CL-120/25S
15.75
16.39
120/25
150
1680
Red
CL-150/8S
150/8
CL-150/20S
16.40
17.10
150/20
1830
Blue
132
CL-150/25S
150/25
CL-150/35S
17.11
17.54
150/35
185
1830
Green
CL-185/10S
17.55
18.04
185/10
1830
Yellow
CL-185/25S
18.59
19.00
185/25
210
1830
White
CL-185/30S
185/30
CL-210/10S
210/10
CL-185/45S
19.52
20.10
185/45
240
1980
Orange
178
YB-20-B
(two)
CL-210/25S
210/25
CL-210/35S
20.11
20.94
210/35
1980
Purple
CL-210/50S
210/50
CL-240/30S
21.48
22.09
240/30
2080
Blue
CL-240/40S
240/40
CL-240/55S
22.10
22.69
240/55
300
2080
Green
CL-300/15S
22.70
23.05
300/15
2080
Green
CL-300/20S
23.39
23.79
300/20
2290
Black
CL-300/25S
300/25
CL-300/40S
23.80
24.45
300/40
2290
White
178
YB-20-B
(two)
CL-300/50S
300/50
CL-300/70S
25.08
25.54
300/70
2290
Orange
CL-400LS
25.55
25.97
400
2740
Purple
222
YB-25-B
(two)
CL-400/20S
26.43
27.29
400/20
2740
Blue
CL-400/25S
400/25
CL-400/35S
400/35
CL-400/50S
27.30
29.69
400/50
2740
Green
CL-400/65S
27.70
28.40
400/65
2740
Yellow
CL-400/95S
28.88
29.26
400/95
500
2740
White
CL-500/35S
29.87
30.68
500/35
2740
Orange
CL-500/45S
30.69
31.14
500/45
2970
Purple
CL-500/65S
500/65
CL-630LS
32.00
32.66
630
2970
Blue
CL-630/45S
33.39
34.42
630/45
2970
Yellow
CL-630/55S
630/55
CL-630/80S
34.43
35.41
630/80
3050
Black
CL-800LS
36.64
37.52
800
3050
Orange
CL-800/55S
37.53
38.51
800/55
3050
Purple
CL-800/70S
38.52
39.55
800/70
3050
Red
CL-800/100S
800/100