Description
Full Round Marker 8 ft.
Full round marker 8 ft also named guy guard marker.It is used to protect the cable or guy wire.The guy guard marker has two type accessories.One type accessories is both end with cable ties,the other type accessories is one end with a metal clamp.
Full Round Marker Type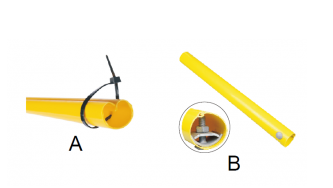 Type
Size
Thickness
mm
Length
mm
Color
Accessories
PVC50.8
2″
1.6
2440
Yellow
A: cable tie
B: metal clamp
GM 2″
2″
1.6
2440
Yellow
GM 1″
1″
1.6
2440
Yellow
GM 2-1/4″
2-1/4″
1.6
2440
Yellow
Full Round Marker 8 ft. Installation Instructions
Step 1. Position Guy Marker so that top of Marker is upward on the strand.
Note: the TOP end is located opposite of the end with the zip tie.
Step 2. Place the slit of the Marker on the strand. Push the strand through overlap into center of Marker as shown in Figure 2.
Step 3. Continue application by simultaneously rotating and pushing Marker onto strand. In new construction just slide Marker onto strand, and then apply deadend.
Step 4. Continue rotating and pushing Marker onto strand until strand is completely inside Marker, and Marker can be freely moved up and down strand.
Step 5. Remove zip tie and insert zip tie strap through the two slots.
Step 6. Pull Marker down over deadend allowing Marker to expand and conform to hardware as required. Wrap zip tie strap around Marker and hardware. Place the zip tie strap through its self-locking tab. Pull tightly to secure Marker.
Related product of Guy guard marker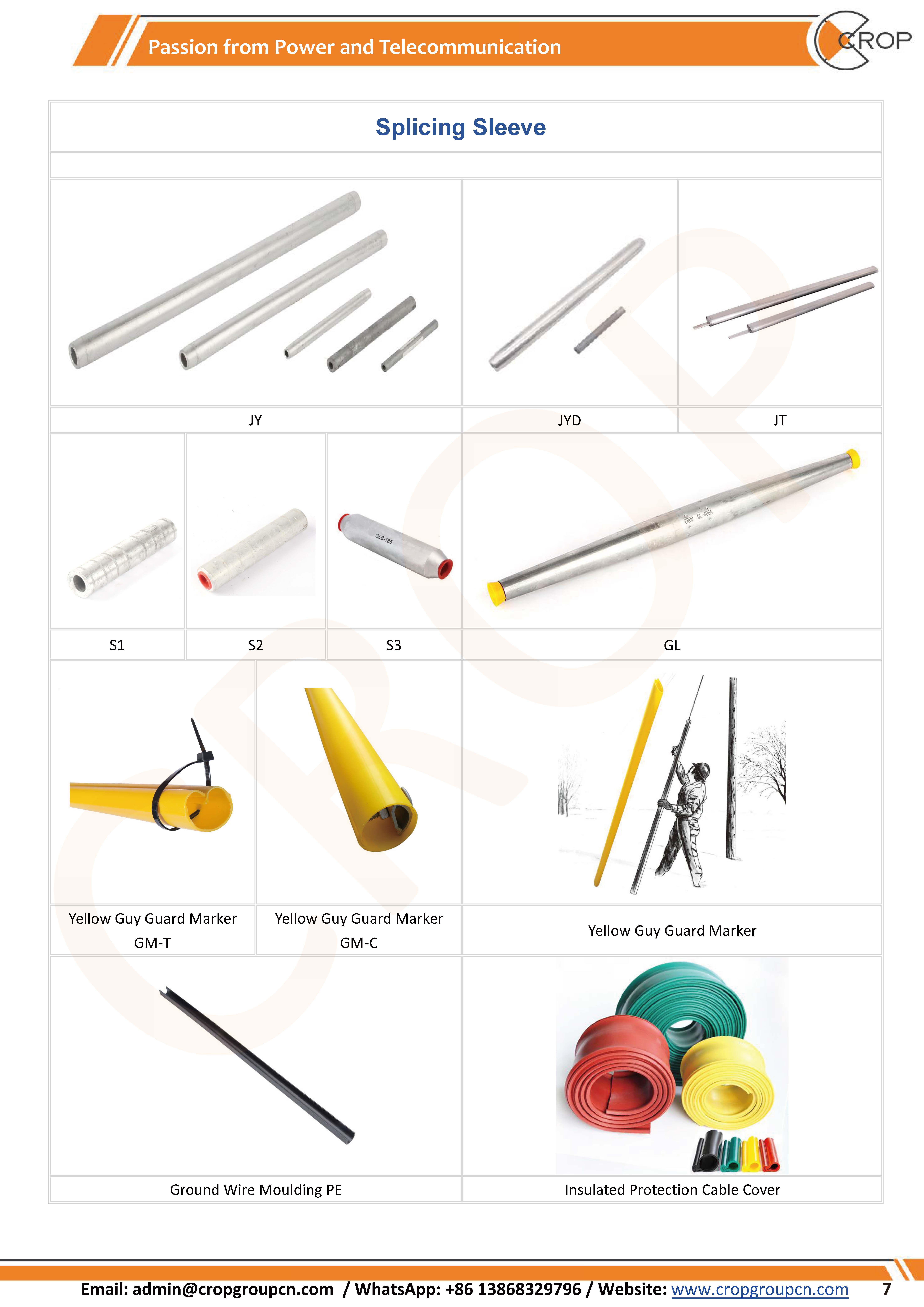 CROP is the manufacturer who is specialized in produce the splice sleeve,yellow guy guard marker,ground wire moulding and insulated protection cable cover.
Packing of Full Round Marker
| Type | Quantity/woven bags | Gross weight/woven bags | Net weight/woven bags | Volume/woven bags | woven bags size |
| --- | --- | --- | --- | --- | --- |
| GM-2″ with 1pc metal clamp | 15 pcs | 10 kg | 9.5kg | 0.109 | 245×18.5x24cm |
| GM-2″ with 2pc cable tie | 15 pcs | 9.5 kg | 9 kg | 0.109 | 245×18.5x24cm |
Above packing detail just for your reference to calculate the freight cost.We also can be packing it by carton.
If you want to know the more details of this product,please feel free contact us.
Email: admin@cropgroupcn.com;tara@cropgroupcn.com
Mob: 0086 177 5778 8662 / Whatsapp: 0086 17757788662 / Wechat: WXL17757788662