Description
Mechanical shearbolt lug is one type of mechanical lug,it is provide a reliable and secure connection between electrical power cables and electric equipment. Suitable for use with flat-type electrical equipment in distribution lines of 11-33kV,the connection method is crimp-free and mechanical.
Material of Mechanical Lug 
Aluminum alloy tin plated
Features
Mechanical Shearbolt Lug is a specialized connector which is applicable to various specifications of wires.
It eliminates tedious selection and inventory control, and 10 to 800 square wires and cables can be used.
The mechanical connection design is adopted, avoiding the use of special installation tools for crimping.
The operation is simple and reliable, and the artificial uncontrollability in the installation process is reduced.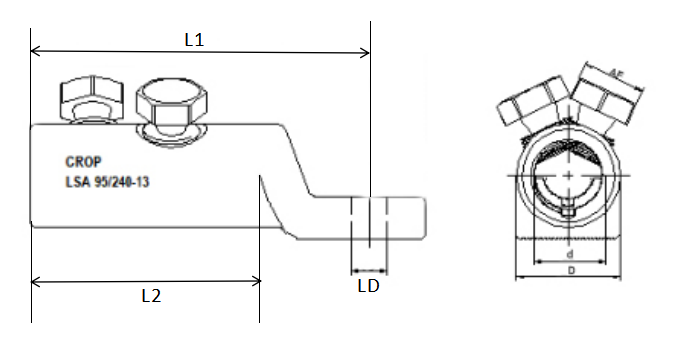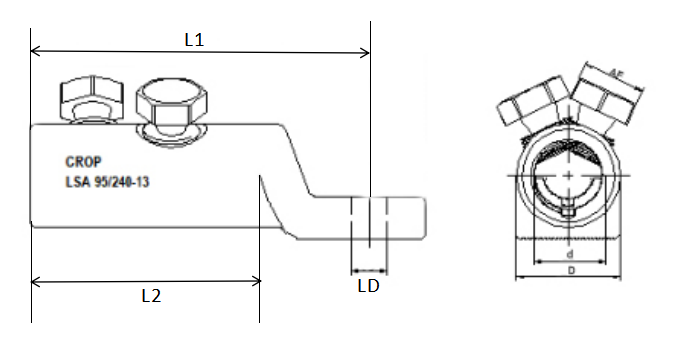 Type
Code
Cable range
mm2
Dimension(mm)
 
No.of Torque bolts
Bolts head size
L1
L2
D
d
LD
AF
LSA-16/70-13
LSA-0
16-70
72
48
24
12.5
13
2
13
LSA-25/95-13
LSA-1
25-95
60
30
24
12.8
13
1
13
LSA-35/150-13
LSA-2
35-150
86
35
28
16
13
1
17
LSA-95/240-13
LSA-3
95-240
112
60
33
20
13
2
19
LSA-120/300-13
LSA-4
120-300
115
65
37
24
13
2
22
LSA-185/400-17
LSA-5
185-400
137
80
42
25.5
17
3
22
LSA-500/630-21
LSA-6
500-630
150
95
50
33
21
3
27
LSA-800-13
LSA-7
800
195
165
55
36
13
4
27
Bolt Type Torque Terminal

Consists of:
Shear head torque bolt
Aluminum alloy tin plated body
V shape accessories
Related Product of Shear Bolt Terminal Lug