Description
Description of solder seal wire connectors
Solder seal wire connectors advantage: Solderless & Crimpless,all you need is just a heat gun to finish the connection,much faster and easier than the old way.heat shrink butt splice disconnect is a kind of accessory for electrical connections, butt splice connectors can be crimped on cable/wire/ electrical equipment. A wide range of premium quality lugs we can supply,and satisfy your different demands.
Performance of heat shrink butt splice
There is two hot melt waterproof adhesive rings in each butt connector, which help it hold up better to moisture.
Fit for confined and narrow spaces
Butt splice connectors can be bent after connection and no need to crimp or solder in the confined area, just control the temperature via a heat gun.
Easy to Identify: Specific color for specific size, easy to pick up for use.
IATF16949:2016 Listed: our solder seal connectors meet the newest standard of International Automotive Task Force, which is the most standardized and safest way for you to repair or modify.
Material of splice connectors
Insulating material of splice connectors: heat Shrinkable tube
Low temperature solder sleeve
Waterproof hot melt adhesive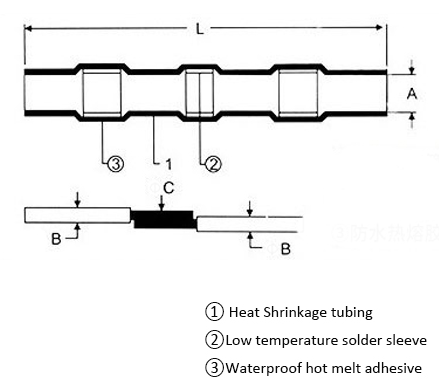 Item No.
Conductor Section
Dimension(mm)
Colour
A.W.G.
mm2
A
B
B&C
C
L
YT-ST4Y
12-10
4-6
6
3.7
6
3.4
40
Yellow
YT-ST3B
16-14
1.5-2.5
4.5
2.3
4.5
2
40
Blue
YT-ST2R
22-18
0.5-1
2.7
1.4
2.7
1.2
40
Red
YT-ST1W
26-24
0.25-0.34
1.7
1
1.7
0.76
26
White
Related Product