Description
Sleeve joint for ACSR conductors is also named mid span joint,it is reliable, easy-to-install splicing method is perfect for overhead transmission and distribution lines.The joint compression for ACSR conductor not only satisfies the basic tension requirements, but also deals with the problems of conductor elongation and conductor misalignment during the high-temperature cycle.
Features of mid span joint
Sleeve joint for ACSR conductors is easy to install and perfect for CRIMP tools only.
It's ideal for ACSR, 5005, 6201 and ACAR partial tension (40% tension rating) conductor jumper splicing.
Our aluminum alloy conductor recommendations include 5005 and ACAR having the same diameter as a given ACSR conductor shown below.
In addition, compressed (compact) conductor sizes within the same decimal conductor range are recommended
Suitable conductor of Sleeve joint
Suitable conductor of Sleeve joint is ACSR conductor. It is a kind of composite conductor with aluminum and steel wires stranded together. The aluminum wire is used for transmitting current, and the steel wire is used for strength. The combination of aluminum and steel makes ACSR conductor a suitable choice for high-voltage transmission lines.
Material of Sleeve joint for ACSR conductors
Joint of outer: Aluminum
Joint of inner: hot dip galvanized steel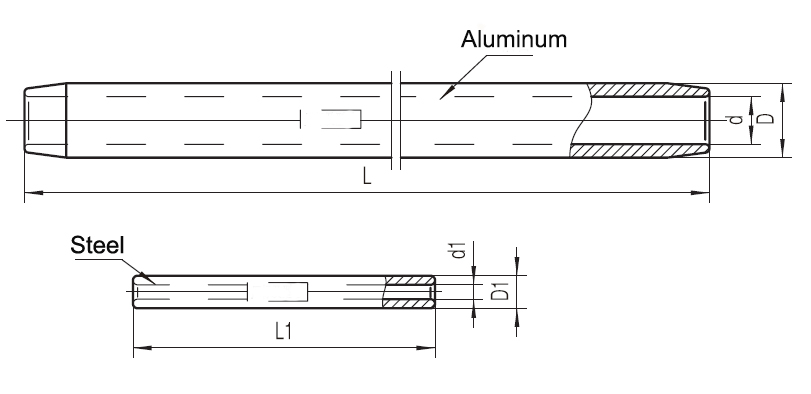 Item No.
Conductor(mm2)
Dimension(mm)
Grip Strength
(kN)
D
D1
d
d1
L
L1
JY-70/10
JKLYGJ70/10
26
110
13
4.5
360
110
21
JY-95/15
JKLYGJ95/15
26
130
15
5.7
430
130
31.5
JY-120/20
JKLYGJ120/20
30
130
16
6.2
430
130
36.9
JY-150/25
JKLYGJ150/25
30
150
18.5
7
500
150
48.7
JY-185/25
JKLYGJ185/25
32
150
20.5
7
520
150
53.5
JY-240/30
JKLYGJ240/30
36
170
23
7.9
570
170
68
Related product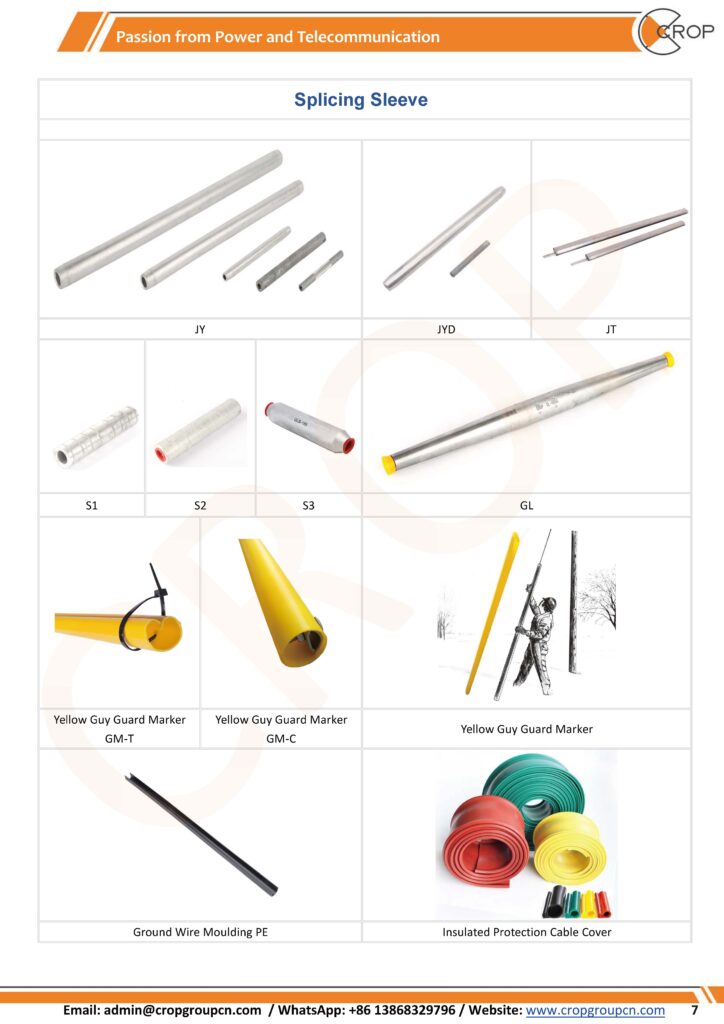 Our mid span joint is manufactured according to international standards, and our experienced team can provide you with the technical support you need to ensure a successful installation. Contact us today to learn more!